Audience
5th Grade | ELA
---
Purpose
– After the teacher has taught about one or more types of poetry in the Google Slides (below), students will be able to create their own examples on Book Creator.
– This will allow them to dive deeper into the world of poetry while also being able to practice their writing and creativity!
– It additionally gives students practice working with Book Creator and helps the teacher check-in with how students are doing in understanding and creating poetry.
---
Directions
1.) The teacher will use the Google Slides and any other additional resources to introduce students to some of the different types of poetry.
2.) The teacher will show students how to use Book Creator.
3.) The teacher will show students the example Book Creator, explaining that the directions for each page will be in purple, boxed text, and that the Slides from class are on the last page if they were absent or forgot about the type of poetry covered in class that day.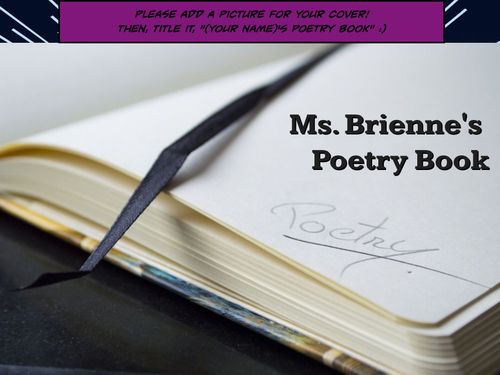 A Slideshow of the example Book Creator:
---
Featured Image by Nick Fewings on Unsplash