Hi 7th graders! This week we are working on combining like terms. Make a copy of this book to complete your work for the week!
Your task:
Each day complete the warm-up problem on page 2. Make sure you show your work and correct it when we go over it in class.
On Monday we will be taking notes on combining like terms. Fill in the blanks for each sentence as Ms. Rowley models it. Complete the practice problems with Ms. Rowley.
Complete the Monday practice by Wednesday. Complete the Wednesday practice by Friday.
There is a 3 step review you can use while completing your homework. You can also watch the video if you need a reminder of how to combine like terms.
On Friday afternoon you will complete the exit ticket. When completing the exit ticket, please do it on your own and without notes. I want to see what you know!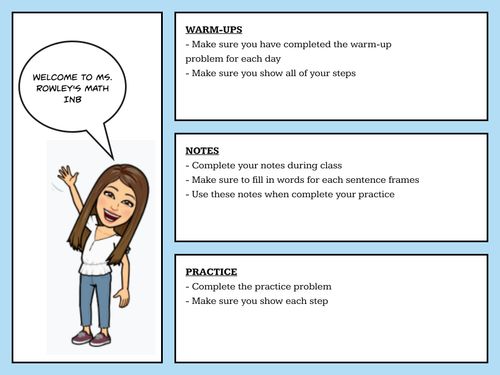 Purpose: The students will use this for each learning target. Their INB includes warm-ups, notes and their practice. Having all of the content in one place allows for the students to go back to it when we are studying for assessments or just to review the content. Another use for a book similar to this could be using the book to store all of the notes for each learning target for a unit.